Structure of Horizon Europe
Horizon Europe is divided into three pillars: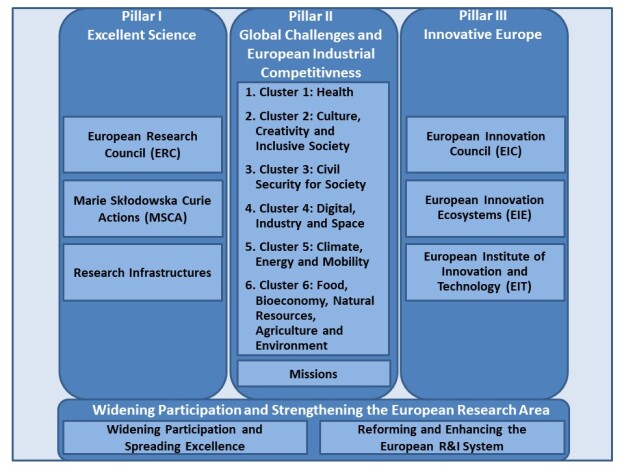 Source: European Comission (adapted)

Under pillar I "Excellent Science" (25.8 billion euro), the European Research Council (ERC, 16.6 billion euro) supports frontier research projects defined and managed by researchers themselves, funds fellowships and exchanges for researchers under the Marie Skłodowska Curie Actions (6.8 billion euro) and invests in world-class research infrastructures.
The pillar "Global Challenges and European Industrial Competitiveness" (€52.7 billion) directly supports research on societal challenges, strengthens technological and industrial capacities, and identifies EU-wide missions with ambitious goals (missions) to address some of our biggest problems. This pillar also includes the activities of the Joint Research Centre (JRC, €2.2 billion) to support EU and Member State policy makers by providing independent scientific information and technical assistance.
Under the pillar "Innovative Europe" (€13.5 billion), the establishment of the European Innovation Council (EIC, €10 billion) will make Europe a pioneer in market-creating innovation. This will contribute to the development of the European innovation landscape as a whole, including by further strengthening the European Institute of Innovation and Technology (EIT) to promote the integration of business, research, higher education and entrepreneurship (€3 billion).